Metainformationen zur Seite
View web page logfiles within the webinterface
The LoxBerry webservice Apache2 has an error log file where messages of the webserver process and messages of Perl and PHP scripts, executed by the webserver, are stored.
If a system widget or a plugin's userinterface stops because of an error, these errors are logged to this webserver logfile.
To not require you to open an SSH connection with Linux shell, you can view and download the logfile in the

 LoxBerry Services widget .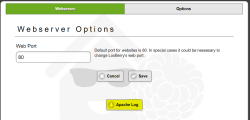 LoxBerry users
If you get an error loading the plugin interface, open the Apache Log and submit the log (or at least the last 100 lines) with a meaningful description to the plugin developer.
The webserver logfile is stored in a RAM disk and consolidated, zipped and later deleted on a daily basis. It may happen that a logfile is empty.
 Webserver logfile path
To get all logfiles (also consolidated one's), you'll find these logs under
/opt/loxberry/log/system_tmpfs/apache2/
The name is error.log
The consolidated logs are named error.log.*